Portable Storage U-Racks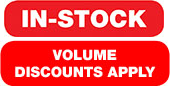 FOB - Midwest Warehouse (Model UR6 & UR10)
Oregon Warehouse (Model UR10)
Orange Enamel Finish

Easy to set up and tear down, these portable storage U-Racks can be stacked up to four units high. U-Racks connect together with safety pins.
Features:
Each rack features double welded construction. Vary the load capacities by moving U-Racks closer together or further apart
Usable space of the UR6 when stacked increases from 16.5" at the base to 20-1/2" at the top
Clear height for both models is 15-3/4"
Orange enamel finish.
Ships via UPS
If you need a large quantity of this product, call us at 1-800-338-1382 for additional bulk discounts!